Costs, fines, and fees in the juvenile justice system harm youth and their families.
They also undermine public safety and contribute to racial disparities in the justice system.
Juvenile courts across the country hear nearly 800,000 cases each year. In every state, youth and families face juvenile justice costs, fees, fines, or restitution. Youth who can't afford to pay for their freedom often face serious consequences, including incarceration or extended probation. Many families either go into debt trying to pay these costs or must choose between paying for basic necessities, like groceries, and paying court costs and fees.
New report: Paying For Justice: The High Cost of "Free" Counsel for Youth in the Juvenile Justice System
Our latest report, Paying for Justice, analyzes statutes in all 50 states regarding the cost of court-appointed counsel, including fees for public defenders. In most states, youth or their families must pay for legal assistance even if they are determined to be indigent. Charging families—especially those living in poverty—for "free" attorneys leads to devastating consequences.
---
---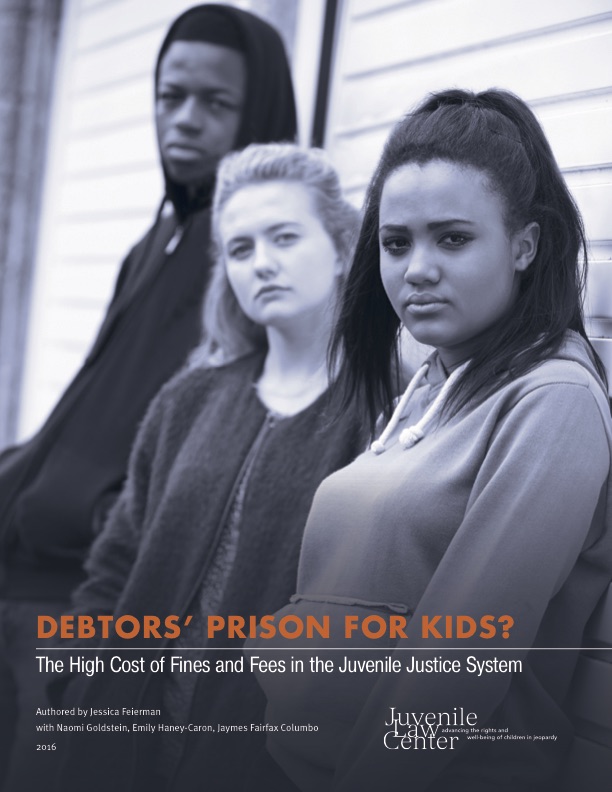 Scant attention has been paid to the financial burdens imposed on youth and families in the juvenile justice system, or the financial and legal consequences to youth and families. To address this gap, Juvenile Law Center conducted statutory research in all 50 states and the District of Columbia; surveyed individuals with experience with juvenile costs, fines, and fees; and solicited a criminology study on the connection between costs and recidivism and the implications for racial disparities in the juvenile justice system.
---
Work on this project was made possible by a grant from the Laura and John Arnold Foundation. Points of view or opinions in these publications are those of the authors and do not necessarily represent those of the Laura and John Arnold Foundation.